Grab your seat and learn ways to use nutrition to tap into
Optimal health
Better performance
Goal achievement
Does This Sound Like
You?
You have changed. You used to be able to eat whatever you wanted and your fitness aptitude and weight stayed strong. Now, it seems no matter what you do, you're losing stamina and/or gaining weight.
You've been a road warrior for so long, you feel like you've hit a plateau. You want to get more competitive and see more gains in your cycling fitness levels but can't seem to break past your current level.
You had an injury (or maybe a bunch of them) and getting back to where you were before seems impossible – no matter what you do.
You're in or about to enter menopause. The hormonal fluctuations have impacted almost every area of your life, including your fitness. You feel helpless dealing with it all.
You're ready to get to the next level. You know nutrition can help you take your cycling to the next level and you know food is the answer.
You're a newbie with no clue. Don't worry, we all started here at some point. You will beat the learning curve with tips and tricks that eliminate common pitfalls for the newbie cyclist.
Female cyclists struggle to find nutritional information tailored to their unique needs.
This course shifts that paradigm.
This self-paced course will help you utilize your nutritional intake to do exactly what it should do – fuel your life. From recovery to injury prevention to performance and beyond, nutrition is foundational in your fitness and overall wellbeing.
It's time for you to reach your highest potential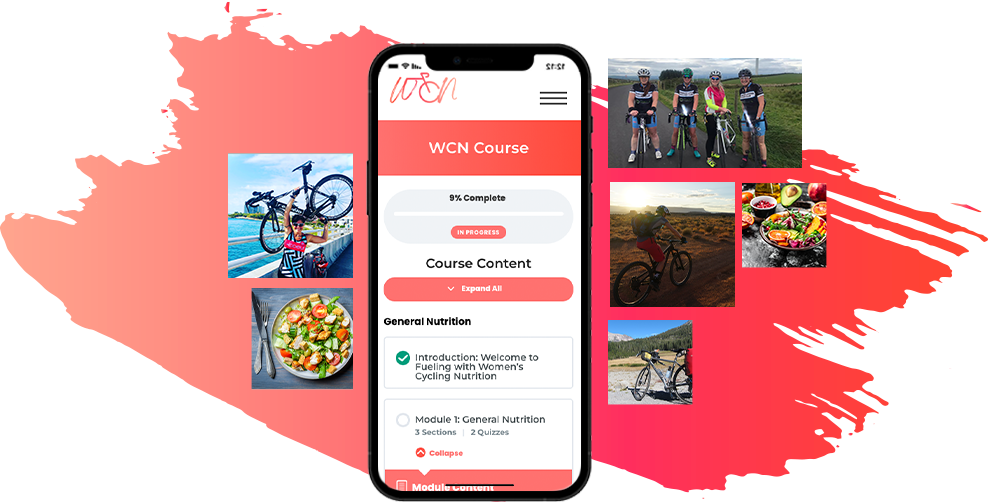 Enroll Today and Your Journey Toward Better Performance, A Healthier Lifestyle Begins!
Here's
What To Expect
Introduction
Meet your instructor: Suzanne (Suzi) Fisher MS, RD, LDN, cyclist and Registered Dietitian with 30+ years of experience infused into every module.
Learn how Suzi took her years of nutrition knowledge and merged them with her love for cycling.
Purpose:
This course was designed for female cyclists of ALL abilities looking to improve their health and wellness through best nutrition practices both on and off the saddle.
Learning Outcomes:
Insights into the importance of a healthy balanced diet
Knowledge to help you select the right foods to improve your performance
Tips and tools to use nutrient timing to your advantage
Playbook to help you achieve optimal performance through fuel and hydration
Understanding of how specific life phases affect nutritional needs
Comfort level with Simple Serving Exchange Method to establish behavioral and lifestyle changes
Solid set of goals of you would like to achieve
Module 1 - General Nutrition
This module will focus on best dietary options and practices WITHOUT demonizing specific food.
We will review the Diet Quality Assessment and help you better understand your results.
Bonus: step by step video tutorials of how to best utilize the meal planner and log.
Highlights include:
Which food options are best and why: There are no good or bad foods. Once you understand this concept, you will be on the right track to developing healthier eating habits.
Review the Diet Quality Assessment: Exactly what is the Diet Quality Assessment? We will review how to interpret your results so you can make meaningful alterations to your diet.
How is metabolism calculated: Metabolism and daily calorie burn can seem complicated. We will break it down into simple steps so you better understand how your daily behaviors are impacting your daily bottom line.
Nutrient dense vs calorically dense: This is where understanding why calories are not the only nutrition metric to look at when it comes into play. There is a place for both types of foods in your daily diet. In this section, we will review both the hows and whys.
Specific macronutrients: In this section, we will delve into the basics of protein, carbohydrates and fat. Why are they important and how to calculate your daily intake. For our vegan and vegetarians — we have you covered! This section will also briefly focus on the best vegan sources of protein.
and so much more…
Module 2 - Nutrition + Performance
In this module, we deep dive into the specific macronutrients and how they affect performance. Gain tools, tips and insights on how to use food to fuel your cycling performance.
Protein: Protein is a key nutrient to repair and maintain muscle mass. But which protein sources are best? Our guide will reduce confusion so you can choose the protein sources that best suit your needs.
Carbohydrates: Known as a cyclist's best friend, carbs are key to fueling those long rides! Knowing which carbs to choose and when to choose them, will work in your favor for improved performance.
Fat: Is fat a recommended source of fuel for cyclists? Will fat fueling help or hinder performance? This section will unpack and clarify the answers.
Nutrient timing: Timing is everything when it comes to nutrients. Use simple calculations to determine the correct fuel for before, during the ride and after your ride.
Hydration: No matter the weather, proper hydration can make or break a ride. It is important to understand how to hydrate properly before, during and after the ride.
Nutrition for events: Packing the right type of fuel and fluids can take your event to another level! Take the stress out of event prep using our fool-proof guide of packable options.
Avoid the dreaded Bonk: What all cyclists fear is the dreaded bonk. What many do not realize, is that a few simple fueling techniques will make the bonk a thing of the past!
and so much more…
Module 3 - Nutrition + Life Phase
Don't allow menopause, injury recovery or common female health challenges to get in the way of your cycling and fitness success. Learn how nutrition can be the key to helping you reach your goals no matter your age or perceived limitations.
Menstrual Cycle: There are some specific nutritional considerations to take into account during your menstrual cycle. Minor dietary alterations can have a huge impact on cycling performance during your monthly cycle.
Peri and Post Menopause: This often maligned time in a woman's life does not have to be the end of your cycling journey. This period of the life cycle is a perfect time to turn up the dial and really hone in your nutrition goals. This section will review the best food to incorporate into your diet as you enter this next phase of your life.
Bone Health: What are Osteopenia and Osteoporosis? Are you at risk? What nutrients and other health considerations are key to protecting bone health as we age?
Muscle: Age-related muscle loss is a fact, BUT it does not have to be your fate. This section reviews which food and lifestyle changes are key to preventing age-related muscle loss.
and so much more…
Module 4 - Nutrition + Weight Loss
Say goodbye to yo-yo dieting. Learn healthy eating tips to achieve your nutrition goals without starvation or deprivation.
Weight loss: While weight loss is not the main focus of this course, we do touch on how a healthy balanced diet can promote weight loss while maintaining muscle mass.
Healthy eating: Eating healthy does not have to be complicated or stressful. Learn pantry essentials, grocery and cooking tips to fuel your behavioral change for a lifetime.
Build a healthy diet: This section will review the techniques of the Simple Serving Exchange System. This easy to use meal planning system can be adapted to any lifestyle. Take it with you on your rides, to the cafe stop, on vacation and in your own kitchen.
Meal Planning and Logging: Learn how to integrate the Women's Cycling Nutrition meal planner and log to maintain a healthy lifestyle and establish new habits.
and so much more…
Start Your Journey

to improved cycling, better health and nutrition.

Simple & straight forward nutrition programs – based in science!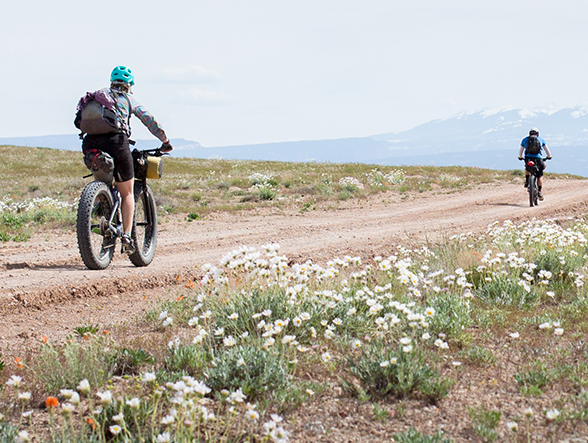 Eat to ride; not ride to eat
Learn how to fuel your ride
Each course comes with additional hands-on tools like quizzes, workbooks, meal plans and video learning tools. It's set up to support you on a successful and empowering journey.
Frequently Asked
Questions
Can I Do This?
Yes! It's for all levels!
What is included with the course?
You receive:
Unlimited access to all the modules and materials including any future updates for the life of the course.
A diet quality assessment at the beginning as well as the end of the course.
Eight weeks of access to the GOmealplans+ mobile app and software
A sample meal plan to follow.
Do I lose access to the course when I have completed all the modules?
No, you will retain access to the course and all updates as long as the course is live. Access to the software and app does expire after 12 weeks.
Will I have access to Suzi during the course?
You are encouraged to ask questions in the private Facebook group.
This course does not include 1:1 coaching sessions. Coaching sessions can be purchased separately, though they are not required to benefit from the course. To purchase coaching sessions, send us a message through the contact form.
Is this course just another diet?
Absolutely not! The course was developed by credentialed nutrition professionals whose main focus was on evidence-based nutrition information. We do not encourage low-calorie diets or the removal of entire food groups. Our focus is on incorporating healthy lifestyle goals so you reach your desired fitness goals.
What if I am a beginning cyclist or a spinner? Will I benefit from this course?
Absolutely! Cyclists of all levels and styles will benefit from the nutrition information provided. Nutrition is especially important as you start your cycling journey so you get the most out of your training.
What if I do not cycle, can I still benefit from this course?
Yes, this course was designed for all active women. The nutrition concepts will apply to most sports and fitness levels.
What if I have special dietary requirements?
No worry! The course provides generalized nutrition information that can be adapted to your specific nutritional needs.
Will this course help me reach my weight loss goals?
While we do offer a module on weight loss, the course focuses on best nutrition practices and habits. Integrating healthy lifestyle changes could absolutely lead to weight loss if that is your goal.